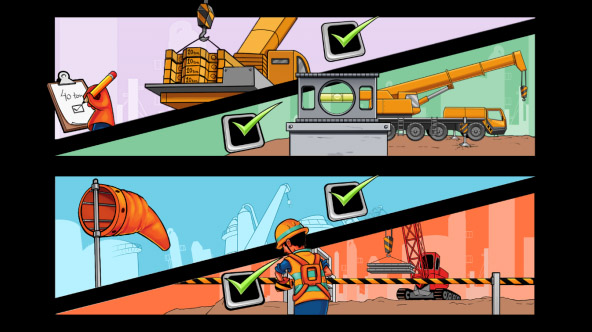 Tag:
Odebrecht
Overview :
Continuing with Odebrecht's pursue for creative manners of bringing the subject of Work Safety to the day-by-day life of people, this game explores another safety issue for workers on construction site: The Operation with Cranes.
This project is the second release of a series of electronic games called SafetyON. Their intention is to develop safety concepts on the player's mind in a fun and challenging way. The player is exposed to situations where the risks are similar to the ones present in the real life of people working on construction.
By downloading it, you will have your abilities tested as a crane operator to perform construction jobs, but requiring to maintain safety as a main issue. Keep in mind that when operating a crane, you must pay attention not only to your safety but also of all others. Nevertheless, the job must be performed in a very efficient way, so that no time is lost and the construction is delivered on schedule.
Highlights:
- Face the clock by operating a modern tower crane, handling loads in the most efficient way.
- Be transported to a usual construction site, where challenges are appearing all the time.
- Earn bonus by erecting special pieces that come by trucks. But do that safely and avoid electrified transmission lines.
- Respond quickly to random quiz regarding safety issues.
- Constantly learn with the lessons presented during the game.
Don't Forget: The main goal of every project or construction is to perform it ensuring everyone's safety. As a participant, you are responsible for that.
So enjoy this game and improve your safety skills!
Supported Devices:
BlackBerry Passport
BlackBerry Passport Silver Edition
BlackBerry Z3
BlackBerry Z30