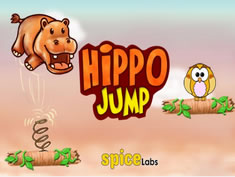 Tag: Hippo Jump
Overview :
Hippo Jump for bb 99xx themes

model: 9900, 9930, 9981

Do you know who is Hippo? Hippo is the hero of "Hippo Jump" a brand new wonderful game now available on BlackBerry. Hippo jump is an endless jumping game; an amazing journey up to the heights, continuously jumping from one platform to another while avoiding obstacles. Laugh with delight as you play with cute little Hippo and make ever high scores. Be Aware: This game is insanely addictive! So now it's time to do a Hippo Jump and start playing.