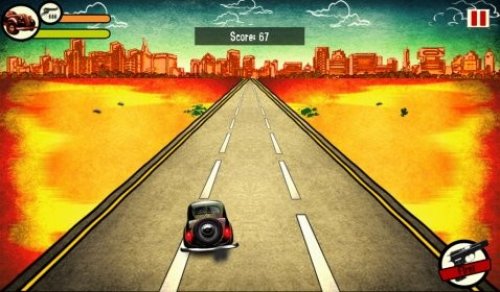 Tag:
PlayBook
BB10
Retro Run
Car Racing
Overview :
Retro Run: Car Racing 1.3 for playbook & BB10 free download
File Size: 12 MB
Required Device Software Tablet: 2.0.0 or higher
BB10 Smartphone: 10.0.0 or higher
Model: Z10, Q10, Playbook

Description:
Do you feel the Need for Speed? Do you want to get your Adrenaline pumping and feel the Heat? Do you want to be the Most Wanted criminal there ever was?
If so, then take on the role of Max, the Most Wanted criminal who's just bought a stolen car. Get your Adrenaline going and pacify your Need for Speed as he sets out with his friend Afro to try this beauty and race on route 66. Don't you just love that new car feeling and the urge to race especially when it's not yours?
Try and Run away as far as possible and avoid the police who are on your lookout. This retro style 70's Racing will get you going in no time and keep you hooked with special power-ups, global leaderboards via Scoreloop and much much more. Look to collect coins which will allow you to upgrade your car as you play getting you further into the game.
Don't forget and shoot to destroy oncoming traffic to clear your way. Look to upgrade your car as well as the duration of power-ups to maximize your chances of survival. Look out for the Delorean Boost to fly over the cops as well as traffic.
The controls are very smooth and extremely easy to use. Unlike Temple Run and Temple Run Brave you can control your character using the accelerometer and do not have to swipe across the surface.
Enjoy, as a test drive turns into a Hot Pursuit for one of the Most Wanted criminals.
Features include:
***Adrenaline pumping action***
***A retro style Car Race against the cops***
***Virtual currency supporting Car upgrades and interesting power ups***
***Entertaining banter between the 4 characters of the game***
***Shooting while you drive***
***Global and Daily Leaderboards for competing with the entire world***
And lot's more to follow through FREE updates!