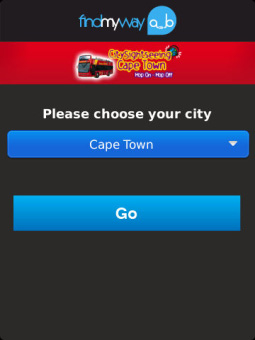 Tag:
FindMyWay
Overview :
FindMyWay 1.0.3 for blackberry apps
Finding your way around town is about to change forever. Public transport times routes and live information will soon be at your fingertips through your mobile phone! At the touch of a button you can now find your way with FindMyWay.
The Find My Way initiative will bring together all the modes of transport within a city so that commuters can more easily access the information in one place. Future releases will include cross-modal journey planning hailing a cab service finding the safest cycle routes from A to B and exploring the city and places around you.
To start off we are supporting a wide variety of transport operators ranging from Robin Island Tour boats to Metrorail trains Gautrain Rea Vaya MyCiti buses the Durban People Mover Golden Arrow Bus Services and many more.
The city is now your playground get exploring and find the many treasures hidden amongst her streets. Never before has something like this existed for any African city and we are proud to be making this dream a reality!
model : 9900 9930 p'9981