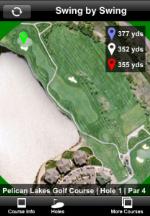 Tag:
Golf
GPS
Range
Finder
Overview :
GPS Golf Range Finder from Swing by Swing is a full-featured GPS range finder that shows distance to green, and any obstacle on the course.
OVER 1,000 COURSES HAVE BEEN ADDED IN THE LAST MONTH! If your course is not yet live in the system, you can easily add it right from our website. **
Take real strokes off your game with smart golf information:
* View a satellite photo of the hole you are playing.
* Accurate distance information, rivaling any $300-500 device.
* Touching the screen shows the distance from you, to any point on the hole.
Map Your Own Course, or We Can Do It For You!
* The GPS Range Finder application is free. All courses in the system are playable for FREE.
* If you see a course not yet mapped, you have two options:
1. You can use our website to map the course yourself It s kinda fun, and only takes 10 minutes if you know the course layout. , or...
2. Our professional mapping team will enter a course into the system for you.
Model:
Blackberry 8350i (320*240) Related Devices Model: 8500, 8520, 8530/Blackberry 83XX Series (320*240) Curve Devices Models: 8300, 8310, 8320, 8330 / Blackberry 87XX Series (320*240) Devices Models: 8700c, 8700r, 8700f, 8700g, 8703e, 8707, 8707g, 8707v .etc /Blackberry 88XX Series (320*240) Devices Models: 8800, 8820, 8830 .etc /Blackberry 89XX Curve Series (480*360): 8900(Javelin), 8910(Atlas)/Blackberry 90XX Bold (Onyx) Series (480*320) Devices Models: 9000, 9020(Onyx)/Blackberry 96XX Tour (Niagara) Series (480*360):9600, 9630, 9650(Tour2), 9700(Bold2) /Blackberry 95XX Storm Series (360*480):9500, 9510, 9520, 9530, 9550(Storm2)