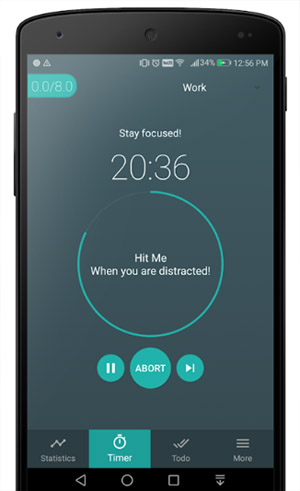 Tag: Engross
Overview :
Engross is an application designed to treat distraction and procrastination. It improves your concentration and self-control, and is suitable for work and learning.





Stay Focused, Manage Time, Manage Tasks

Most of us distract a lot while studying or working. Distractions lower our efficiency, task that can be finished in 30 minutes takes 60 minutes, imagine how much time we waste in a whole day, week or in a year!

A cure for distractions

Engross is specially designed to lower distractions/procrastination and improve concentration. It helps to adopt self-control & stay focused on work at hand. It not just eliminates day-dreaming & distractions from your work time, but also helps to keep your work organized.

A proper Time Management Tool

With a Focus Timer, Work labels and a To-do list, Engross is a perfect time management app and can boost your daily productivity to a whole new level.

A To-do List with Reminders

Plan your day, create tasks, set reminders and stay committed to your schedule.

A complete Self-Study tool

Features like revise/recap timer are specially built for students & self-study. Labels can be used to tag each session with a subject and thus students can track their time spent on each subject.

Easy to use, a lot to exploit

How to use Engross for maximum work efficiency?

•  Once you start the timer, a circle in the center of screen will ask you to tap on it every time you get distracted/lose focus.

•  Tap on it and resume working/studying immediately. This hack will help you to not waste any time on the distraction and work with full focus.

(You can also enable the option to turn off WiFi automatically when the work session starts.)

•  At the end of the session you will know how many times you got distracted.

•  Your challenge in next sessions will be to lower your distractions.

•  Keep doing that and achieve maximum concentration and increased productivity.

•  To stay motivated for work, you can tag a goal with each session.

•  In each break, you can follow some basic suggestions to stay fresh & productive.

•  Based on your distractions, It gives an analysis of your improvement with time and tells the best timer duration & best times of day for focused work.