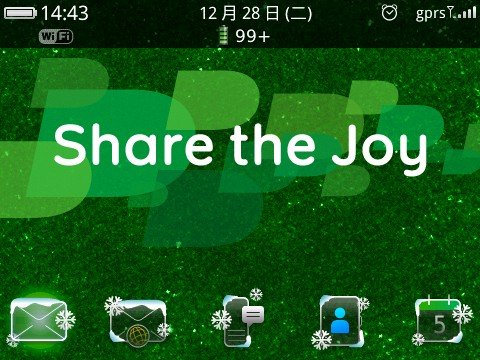 Tag:
bold
curve
tour
Joy
Share
Overview :
Share The Joy for blackberry os5.0 themes
Compatible Devices :
Model: Blackberry 89XX Curve Series (480*360): 8900(Javelin), 8910(Atlas)
Model: Blackberry 96XX Tour (Niagara) Series (480*360):9600, 9630, 9650(Tour2), 9700(Bold2)

Show your holiday spirit by downloading a FREE BlackBerry Holiday Theme, created exclusively for BlackBerry customers. Get into a festive mood by decorating your home screen, icons, menus, and more! Choose the theme you love best: Let it Snow, Share the Joy or Happy Holidays. If you can't decide, download all three. After all, they're FREE! It is our way of saying thanks for choosing a BlackBerry smartphone.
Many customers have asked to hear more from the BlackBerry team. So if you haven't already, sign up for ongoing updates about BlackBerry products and services, and we'll send you tips and expert advice to help you better use your BlackBerry smartphone. https://www.blackberry.com/profile/?eventId=5029
Note: After downloading the theme you may experience a change in your icon placement. To switch your icons – highlight an icon, select the menu key and click move.