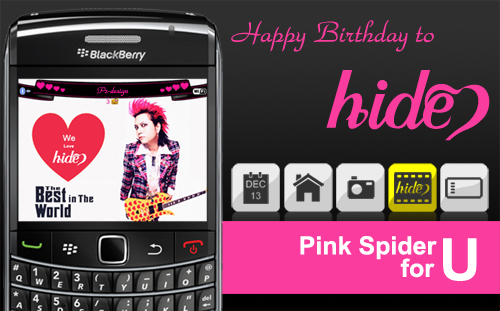 Tag:
bold
curve
Pink Spider
Overview :
free Pink Spider themes for 89xx,90xx os4.6 download
Model: Blackberry 89XX Curve Series (480*360): 8900(Javelin), 8910(Atlas)
Model: Blackberry 90XX Bold (Onyx) Series (480*320) Devices Models: 9000, 9020(Onyx)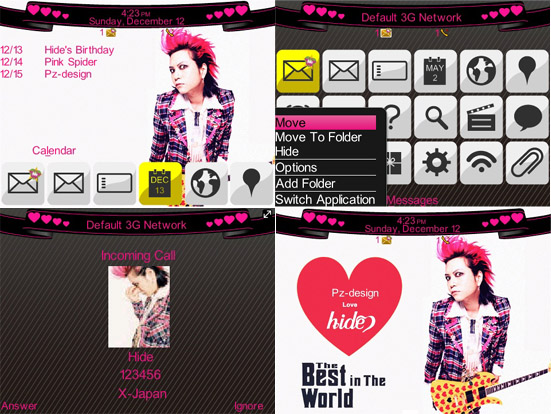 Today is a special day 46 years ago today, Hide was born in Kanagawa Prefecture, Japan. As a fan of Hide, the theme of a theme to do so to commemorate Hide Mulberry, strawberry friends do not know you do not like us there is a fan of Hide it? Theme currently supports Curve 8900, Bold 9000, Tour 9630, Bold 9650 and Bold 9700, and provides OS 4.6 and OS 5.0 support.
Home has 6 icons can be replaced to support the line 7 Today content. You can customize the wallpaper. In Home you can use shortcut keys to quickly open some programs.
Shortcut key settings are:
■ 【W】 - Admin Links
■ 【H】 - SMS and MMS
■ 【F】 - profile
■ 【R】 - Clock
■ 【X】 - Multimedia (some systems versions may not be used)
■ 【0】 - Download Folder
Finally, I wish Hide happy birthday! Our eternal Pink Spider!