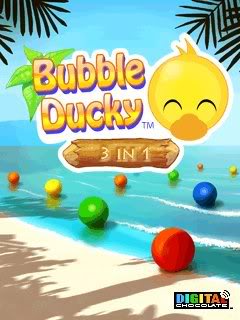 Tag:
Bubble
9500 games
Ducky
Overview :
Bubble Ducky 3 in 1 for blackberry 95xx storm games
Model:
Blackberry 95XX Storm Series (360*480):9500, 9510, 9520, 9530, 9550(Storm2)
Description:
Get 3 hit games in 1 and experience a puzzle pack full of addictive pearl bursting challenges!
Match, swap, chain or loop pearls to score big! Uncover special pearls for extra power!
Enjoy up to 21 levels in Story Mode, plus endless Quick Game play!
Features
* 3 hit games in one addictive puzzle pack:
* Bubble Ducky, Ducky's Jewels and Funky Ducky
* All new, fun challenges!
* Up to 21 levels in Story Mode
* Endless Quick Game Mode!
* Special power-up pearls – (Mines, wildcards and harmony stones)!
* Lots of ways to play!
* Move, swap, chain or loop pearls to score!
* Detonate mines to clear out tough spots
* Capture special pearls for more moves.
* Big reward bonus rounds
* Bright, fun graphics
* Intuitive, one-thumb mobile gameplay