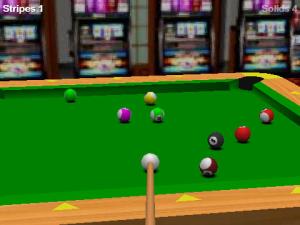 Tag:
Pool
Vegas
Sharks
Overview :
Vegas Pool Sharks 89,96,97xx games
Model:
Blackberry 89XX Curve Series (480*360): 8900(Javelin), 8910(Atlas), 8930, 8950, 8980/Blackberry 96XX Tour (Niagara) Series (480*360):9600, 9630, 9650(Tour2), 9700(Bold2), 9780, Dakota, Apollo
Description:
Welcome to Vegas. How about a nice little game of pool? But soon those friendly locals you met in the casino are showing a certain predatory side. Congratulations, you are now playing Vegas Pool Sharks, with your car title, mortgage, and kids college fund on the table.
* Four opponents with increasing skill levels.
* Three game types.
* Realistic physics.
* Full 3d viewing with tilt and zoom.
* Aim assist.
* Save / Resume game.
* English spin.