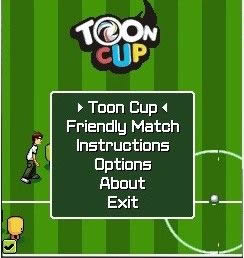 Tag:
Toon Cup
Overview :
Toon Cup for 71xx,81xx games

Model:
Blackberry 71XX Series (240*260) Devices Models: 7100, 7110t, 7105t, 7100r, 7100v, 7100g, 7100x, 7100i, 7130e, 7130c, 7130g, 7130v/Blackberry 81XX Series (240*260) Pearl Devices Models: 8100, 8110, 8120, 8130
Description:
Toon Cup will feature well-known characters including Ben 10, Chowder, Billy from The Grim Adventures of Billy & Mandy, Buttercup from The Powerpuff Girls, and Zak from The Secret Saturdays, all acting as team leaders playing hard to win the trophy. This is the first time a mobile game will include a combination of Cartoon Network characters in one game.
It's an action packed 5-aside football mobile game which will include all sorts of special power ups, hazards and helpers. The game play has been designed to be fast and smooth, while keeping controls simple and direct to optimize the overall experience. Toon Cup is a high quality title which will be supported by a wide range of J2ME enabled handsets on its release.
"The Toon Cup mobile game is a fun and playful take on the football game genre with exciting features that adds a lot of fun and mischief to football. As a player you will be able to join favourite Cartoon Network characters in a different kind of football game than you are normally used to. It will simply give more action, new challenges and a different experience"