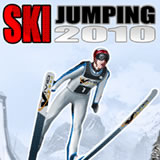 Tag:
8330 games
Jumping
Ski
Overview :
free Ski Jumping 2010 for blackberry 8330 games
Description:
Strap on your skis and experience the airborne thrills of the worlds toughest ski jumps. Customize your skier, choose your allegiance and jump for the glory of your country against up to three of your friends in the multi-player mode or against the 49 built in competitors.
Choose to have a quick hit by entering a tournament or a longer challenge playing in a career mode that could see you taking on the very best ski jumpers on the planet. Earn the cash to get you the best equipment money can buy then take on jumps from Finland to Japan. Judge the wind speed to perfect your take off and balance in the air before making a beautiful touch-down to wild applause!
Model:
Blackberry 8350i (320*240) Related Devices Model: 8500, 8520, 8530, 9300(Kepler)/Blackberry 83XX Series (320*240) Curve Devices Models: 8300, 8310, 8320, 8330 / Blackberry 87XX Series (320*240) Devices Models: 8700c, 8700r, 8700f, 8700g, 8703e, 8707, 8707g, 8707v .etc /Blackberry 88XX Series (320*240) Devices Models: 8800, 8820, 8830 .etc