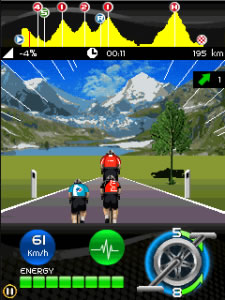 Tag:
Tourde
France
Overview :
Check out the 2010 version of the legendary Tour de France game! You must take the yellow jersey and be the leading rider as you race along the Champs-Elysées! To do so, you must excel throughout all 21 stages of the Tour. Manage your energy levels, don't miss the refuelling points, handle the corners... and be a worthy rival to the legends of the Tour in the gruelling mountain stages!
• Stage Mode: race each stage individually
• Tour de France Mode: race each of the 21 stages in sequence; your aim is to be the winning racer along the Champs-Elysées!
• 3 difficulty levels: amateur, pro and legend!
• 3 official jerseys to wine in each stage: polka dot jersey, green jersey, yellow jersey.
• The 21 official stages are accurately reproduced within the game: 10 plain stages, 7 mountain stages, 3 altitude finishes...
• 20 racers of 12 different nationalities
• At the end of each stage: will your ranking make the (virtual) front page of the famous daily sports paper l'Equipe?
Installation of jar file: copy the jar directly to your BlackBerry's media card, click on media, click the menu button to select explore, select the jar file in the card, click on the installation.
Model:
Blackberry 89XX Curve Series (480*360): 8900(Javelin), 8910(Atlas), 8950/Blackberry 90XX Bold (Onyx) Series (480*320) Devices Models: 9000, 9020(Onyx)/Blackberry 96XX Tour (Niagara) Series (480*360): 9600, 9630 Niagara, 9650, 9700, 9780