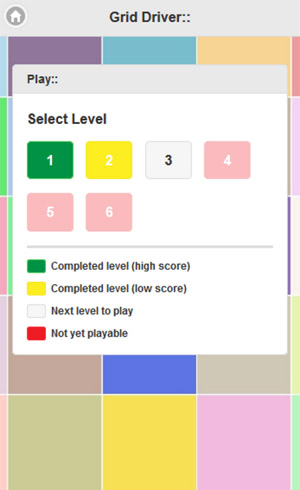 Tag:
classic game
GridDriver
Overview :
An action puzzle game; Tap or swipe cells as they appear on the screen, various bonuses (good and bad) will occur.
10 challenging levels with progressively increasing difficulty, with a few unique twists thrown in !
Points are awarded based on hits (i.e. taps) and this is depicted through a percentage (hit score) indicator at the bottom of the screen.
Each level has a minimum in-game hit score, if at any point during the level (after the first few rounds) the score drops below this mark the level will automatically end. Also, each level has a minimum final hit score required in order to proceed on to the next level. Level information is displayed in the level information screen before starting.
Passed levels are graded with a low and high indicator marker, you can always replay the level to increase the score at anytime.
Various in game bonuses include:
- Speed Up (decreases the time each tile is displayed, making it harder)
- Speed Down (increases the time each tile is displayed, making it easier)
- Avoid Red Tiles (hitting red tiles decreases your hit score, only green tiles are safe)
- Double Tap (2 tiles are displayed simultaneously, clear both to get a hit)
Tips:
- Try each level multiple times to get accustomed to the speed and various bonuses.
- You can drag your finger across the screen, no need to lift off !
Supported Devices:
BlackBerry Classic
BlackBerry Leap
BlackBerry Passport
BlackBerry Passport Silver Edition
BlackBerry Q10
BlackBerry Q5
BlackBerry Z10
BlackBerry Z3
BlackBerry Z30
PlayBook
Porsche Design P9982
Porsche Design P9983