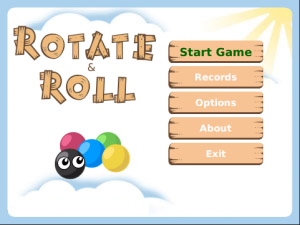 Tag:
Roll
SolverLabs
Rotate
Overview :
Rotate and Roll v1.5.3 for blackberry games os 5.0,6.0,7.0
size: 1.4 MB
model: Pearl 9100 3G, Pearl 9105 3G, Curve 8520, Curve 8530, Curve 8900, Curve 8910, Curve 8980, Bold 9000, Curve 9300 3G, Curve 9330 3G, Tour 9630, Bold 9650, Style 9670, Bold 9700, Bold 9780, Bold 9788, Curve 9350, Curve 9360, Curve 9370, Storm 9500/9530, Storm2 9550/9520, Torch 9850/9860, Torch 9800, Curve 9380, Bold 9790, Torch 2 9810, Bold 9900/9930, 9981
Description:
NOTE: please make sure you have the latest version 1.5.2 update on your device before starting the game!
This update should fix all of the problems with earlier updates.
Rotate your way through 40 challenging levels. Roll the balls to the bubble to progress.
Use keyboard keys or touch screen buttons to tilt the game to help the balls escape. All about the gravity, folks! Get your happy little ball to the big bubble, but don't fall, and don't hit the spiky dudes. Many levels, many, many levels.
P.S. On level 16 - rotate screen slightly left then slightly right. We will make it easier - seems like lot of people are stuck there.


i hope you enjoy the bb games.