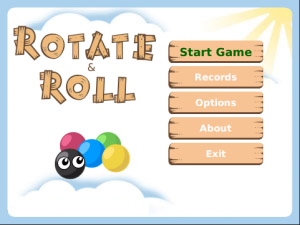 Tag:
Rotate and R
Overview :
Rotate and Roll v1.4.0 free downnload
file size: 952 KB
Required Device Software
Smartphone: 5.0.0 or higher
Description:
NOTE: please make sure you have the latest version 1.5.2 update on your device before starting the game!
This update should fix all of the problems with earlier updates.
Rotate your way through 40 challenging levels. Roll the balls to the bubble to progress.
Use keyboard keys or touch screen buttons to tilt the game to help the balls escape. All about the gravity, folks! Get your happy little ball to the big bubble, but don't fall, and don't hit the spiky dudes. Many levels, many, many levels.
P.S. On level 16 - rotate screen slightly left then slightly right. We will make it easier - seems like lot of people are stuck there.