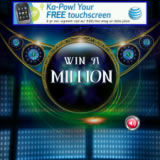 Tag:
bold games
Win
Million
Overview :
Win A Million for blackberry 9000 bold games
Model:
Blackberry 90XX Bold (Onyx) Series (480*320) Devices Models: 9000, 9020(Onyx)
Description:
This is a free ad service application.Before buying the win a million app please try it once.
* Get one of the most famous TV game show on your BlackBerry?
* Who wants to be a millionaire?
* With 900 questions & nice user interface, this game is one of the best available.
* 15 levels... 3 lifelines....1 goal.
* Test & improve your knowledge using this game.
* This game challenges players to correctly answer 15 questions of increasing difficulty with the help of three lifelines - Ask the Audience, Phone a Friend, and 50-50.
* Just like on TV, players must answer before the game clock runs out. The time carries question by question.
* Post to face book & Twitter.
* Tell a friend.
Disclaimer:
* This is just a fun game brought to you by Vimukti Technologies Pvt Ltd. No real money can be made by playing this game. Vimukti is no way affiliated to ITV plc.