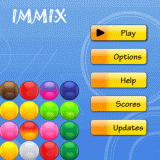 Tag:
Immix
Ball Game
Overview :
Immix Ball Game - blackberry games
Description:
An ultimate game of skill and logic. Your goal is to combine three or more balls of the same type. You loose if the stack of balls crosses the red line at the top.
Only Green and Yellow balls are available in the beginning and every time you combine three or more balls of the same color you create a new ball of a new color!
The game gets harder as you move up the scale. Play to find out how high you can get!
Features:
Beautiful and intuitive user interface.
Smooth graphics.
Ideal for a quick game play.
Simple and Amazingly Addictive Game.
Compatible for all devices running on OS 4.2 & above.

Minimum Requirements:
•OS 4.2
Display Dimensions
240x240, 240x260, 240x320, 320x240, 360x400, 360x480, 480x320, 480x360
Operating System
4.2, 4.3, 4.5, 4.6, 4.7 Non-Touch, 4.7 Touch Screen, 5.0 Non-Touch, 5.0 Touch Screen, 6.0 Non-Touch, 6.0 Touch Screen
Model:
Blackberry 82XX Series (240*320) Pearl Flip Devices Models: 8200, 8220, 8230/Blackberry 8350i (320*240) Related Devices Model: 8500, 8520, 8530, 9300(Kepler)/Blackberry 83XX Series (320*240) Curve Devices Models: 8300, 8310, 8320, 8330 / Blackberry 87XX Series (320*240) Devices Models: 8700c, 8700r, 8700f, 8700g, 8703e, 8707, 8707g, 8707v .etc /Blackberry 88XX Series (320*240) Devices Models: 8800, 8820, 8830 .etc /Blackberry 89XX Curve Series (480*360): 8900(Javelin), 8910(Atlas), 8950, 8980/Blackberry 90XX Bold (Onyx) Series (480*320) Devices Models: 9000, 9020(Onyx)/Blackberry 96XX Tour (Niagara) Series (480*360):9600, 9630, 9650(Tour2), 9670, 9700(Bold2), 9780 /Blackberry 95XX Storm Series (360*480):9500, 9510, 9520, 9530, 9550(Storm2), 9800(Torch)/Blackberry Pearl 3G Series (360*400) Devices Models: 9100, 9105