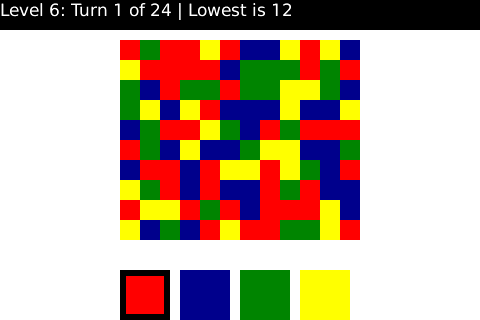 Tag:
curve games
Flood
Overview :
free Flood v1.1 for curve games
Description:
Flood is an addicting and challenging puzzle game. The goal of the game is to turn the entire board the same color. You do this by selecting one of the colors and starting from the top left, every neighboring square with that color will be filled. It makes a lot more sense once you just play around with it, which is why we are offering a FREE TRIAL for everyone to see just how addicting and fun the game is.
There are over 25 levels which means it will be challenging for quite some time, as the later levels are extremely challenging. Boards start small, and begin getting very big quickly. As if that wasn't hard enough, you start with only 3 colors, and end up with 6!
Each level has a "par" which is calculated by our advanced Intelligence Engine, which intelligently determines what a good score for each level is. Since the levels are completely random each time, each level plays like an entirely new game every time you play it!
If you get stuck on a level in the campaign mode, just go to Practice mode and practice the round without having the pressure of losing!
Features:
Campaign mode with over 25 levels and a practice mode to play them at any time!
Intelligence Engine determines a good score for each round
Free trial!
Practice mode to practice tough levels
Bright, colorful graphics
Support for OS 4.6 and up including special support for the Storm!
Ability to reset campaign to start over again

Minimum Requirements:
for 4.6 and 4.7 trackball (Bold, Tour, Curve 8900)
Display Dimensions
480x320, 480x360
Operating System
4.6, 4.7 Non-Touch, 5.0 Non-Touch
Model:
Blackberry 8350i (320*240) Related Devices Model: 8500, 8520, 8530, 9300(Kepler)/Blackberry 89XX Curve Series (480*360): 8900(Javelin), 8910(Atlas), 8950, 8980/Blackberry 90XX Bold (Onyx) Series (480*320) Devices Models: 9000, 9020(Onyx)/Blackberry 96XX Tour (Niagara) Series (480*360):9600, 9630, 9650(Tour2), 9670, 9700(Bold2), 9780 /Blackberry Pearl 3G Series (360*400) Devices Models: 9100, 9105