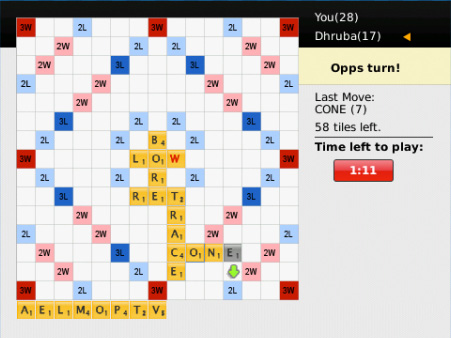 Tag:
9900
Wordosaur
Overview :
Wordosaur 1.0.3.1 for BB 9900, 9930, p9981 game
Wordosaur - It's the T-REX of word games to play with your BBM buddies!
* Play FREE word games with your BBM Buddies.
* Hit up global BBM players when your friends are busy or, start up a solitaire game.
* In-game BBM chat facility!
* Keep a record of wins and losses against your BBM friends.
* Brilliant graphics that makes optimum usage of your BlackBerry device screen
* Get notified of new moves with a short, quick vibraAlert.
ABOUT THE BBM WORD GAME
The most exciting and addictive BBM word game ever! Wordosaur is the crossword game you know and love - make words using letter tiles on a 15x15 board.
Wordosaur is a BBM Connected App - you can match all your BBM buddies and have a great word fight!
BlackBerry support model: 9900 9930 p9981
Thanks and hope you enjoy!