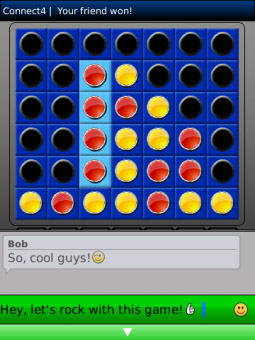 Tag:
Connect4
Overview :
Connect4 v1.0.1 for blackberry games - Connect4 is an simple Connect Four styled game with BBM™ integration.

Version: 1.0.1
File Size: 262 KB
Required: 6.0.0 or higher
Model: Blackberry 96XX Tour (Niagara) Series (480*360):9600, 9630, 9650(Tour2), 9700(Bold2), 9780, 9790, Dakota, Apollo /Blackberry 95XX Storm Series (360*480):9500, 9510, 9520, 9530, 9550(Storm2), 9570(Storm3) / Blackberry Torch Series: 9800(Torch), Torch2, 9810, 9860/Blackberry Pearl 3G Series (360*400) Devices Models: 9100, 9105, 9670(Style)/Blackberry 99XX (OS 7.0) Series (640*480) Devices Models: 9900, 9930, 9981

Description:
So, you can:
(The trial version not fit the screen of 9900 but the full version fits well)
- Play the game versus your BBM™ existed contacts or friends.
- Start offline game, two players can play against each other in a single device
- In-game chatting. That means, you can chat with your opponent right in the game
- Send invitation to download game!
- Send file to your friends
- Send popup message to your friends
- Start an BBM™ chat with your opponent or your BBM™ contacts
- Host public game
- Join public game
################The Scoring record system###################
With the online game, you can view your current score or view your friends score via the BBM™ status!
For the first time, you have 1500 marks. And if:
- You win a match, you'll gain 10 marks
- You lose a match, you'll lose 10 marks
- A draw game takes no effect to your score
The score system is only available on online game, not offline game
- The built help screen help you easier to setup and use the game!
- The Settings to enable/disable sound