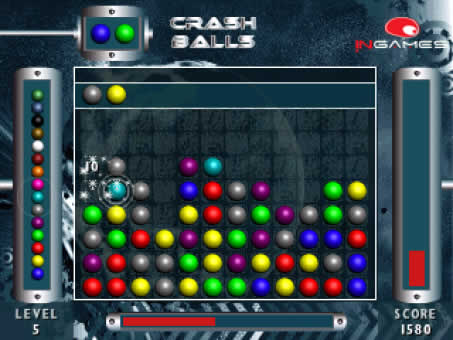 Tag:
Crash
Balls
torch games
9800
Overview :
free Crash Balls v1.0.6 for 9800 torch games
Model:
Blackberry 89XX Curve Series (480*360): 8900(Javelin), 8910(Atlas), 8930, 8950, 8980/Blackberry 96XX Tour (Niagara) Series (480*360):9600, 9630, 9650(Tour2), 9700(Bold2), 9780, Dakota, Apollo / Blackberry 95XX Storm Series (360*480):9500, 9510, 9520, 9530, 9550(Storm2), 9570(Storm3), 9800(Torch), Torch2
Description:
Stack as many as possible balls with matching colors & gain points.
Move the pair of balls across the board and click when you want them to drop down.
Combine 3 or more balls of the same color to make them explode and create a new ball.
Complete each level by filling the right bar.
Each new level unlock a new color making the game harder to play.
In advanced level a new row of balls comes from the bottom when the horizontal bar is emptied.
Special balls will help you if you use them strategically.
Pause the game with "p" key or using the red hang button.
Have fun completing 13 levels.
In-game ads by innerActive (requires data connection).