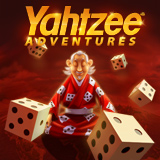 Tag:
Adventures
82xx games
Yahtzee
Overview :
Yahtzee Adventures 82xx games
Model:
Blackberry 82XX Series (240x320) Pearl Flip Devices Models: 8200, 8220, 8230
Description:
Travel the globe, meet new characters, challenge them to a game, roll the colorful dice and be the first to score a Yahtzee! Enjoy classic, duplicate, rainbow and battle modes. Pass n Play with friends, or try the ultimate Yahtzee single-player adventure. Fun for all!