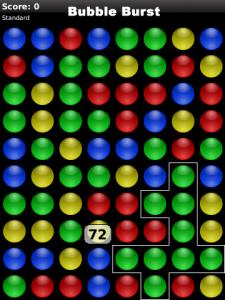 Tag:
Bubble
storm games
Burst
Overview :
Bubble Burst 95xx storm games
Description:
Bubble Burst is the fun color matching game where you need to try to pop the largest collection of same color bubbles. Touch a set of matching bubbles to see how many points they will earn you, and click the screen to pop them. When a bubble is popped, the bubbles above it fall down to form new matches. The larger the collection, the more points you will get. Finishing the level with five or less bubbles left will give you bonus points! There are four game modes: Standard, Shift, Continuous and Megashift. Standard is the normal game where bubbles fall down and columns only shift if an entire column is cleared. In Shift mode, all the bubbles will shift as far possible to the right whenever a selection is cleared. Continuous mode causes more bubbles to appear on the left whenever a column is cleared, while Megashift is a combination of Continuous and Shift modes. This classic and simple game will provide countless hours of fun!
Check out Tafasa's other great apps!
Features:
Four different game modes providing endless fun
Saves the highest score, average score and number of games played for each game mode
Fun popping sounds (can be turned off from the menu)
Undo last played move
Shapes mode (enabled from the menu during gameplay) which turns the colored balls into shapes; especially ideal for those that are colorblind.
Shake the device while playing to start a new game (only for Storm)
Model:
Blackberry 95XX Storm Series (360*480):9500, 9510, 9520, 9530, 9550(Storm2)