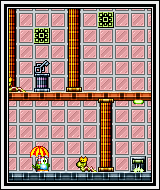 Tag:
Adventures
Aggto
Overview :
Arghos' evil serpents had stolen the golden keys, help our adventurer in their quest to recover the keys and bringing them back to the stone pedestal.
If you're a fan of cutesy platform games such as Rainbow Islands or New Zealand Story then you're going to love Adventures of Aggto.
The game casts you in the role of Aggto, a sweet little creature who must escape from the castle he's imprisoned in. In each level within Adventures of Aggto your objective is to unlock the door by collecting the gold key and taking it back to the stone pedestal. In order to do this you need to jump platforms, avoid enemies and generally dodge anything that gets in your way.
You've got a bunch of different items on you in order to help you in your quest. These include an umbrella, balloon, parachute, and magic hat. The puzzle element of Adventures of Aggto comes from figuring out which of these items to use when.
Adventures of Aggto is an easy game to pick up and start playing thanks to its simple control system. The cute, colorful graphics are very endearing, without being overly elaborate.
It's worth mentioning that in order to play Adventures of Aggto you'll need to obtain an activation code from the developer's web site. It's free to play, and just involves visiting a page and getting a code.
Model:
Blackberry 72XX Series (240*160) Devices Models: 7200, 7210, 7230, 7250, 7270, 7280, 7290, 7510, 7520, 6510/Blackberry 71XX Series (240*260) Devices Models: 7100, 7110t, 7105t, 7100r, 7100v, 7100g, 7100x, 7100i, 7130e, 7130c, 7130g, 7130v/Blackberry 81XX Series (240*260) Pearl Devices Models: 8100, 8110, 8120, 8130/Blackberry 82XX Series (240x320) Pearl Flip Devices Models: 8200, 8220, 8230/Blackberry 8350i (320*240) Related Devices Model: 8500, 8520, 8530, 9300/Blackberry 83XX Series (320*240) Curve Devices Models: 8300, 8310, 8320, 8330 / Blackberry 87XX Series (320*240) Devices Models: 8700c, 8700r, 8700f, 8700g, 8703e, 8707, 8707g, 8707v .etc /Blackberry 88XX Series (320*240) Devices Models: 8800, 8820, 8830 .etc /Blackberry 89XX Curve Series (480*360): 8900(Javelin), 8910(Atlas), 8950/Blackberry 90XX Bold (Onyx) Series (480*320) Devices Models: 9000, 9020(Onyx)/Blackberry 96XX Tour (Niagara) Series (480*360):9600, 9630, 9650(Tour2), 9700(Bold2) /Blackberry 95XX Storm Series (360*480):9500, 9510, 9520, 9530, 9550(Storm2)/Blackberry Pearl 3G Series (360*400) Devices Models: 9100, 9105