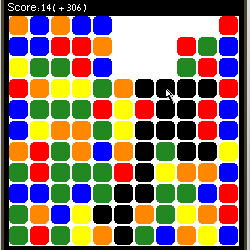 Tag:
95xx games
Block
5uper
Buster
Overview :
free 5uper Block Buster games for blackberry

Description:
5uper block buster (touch) is a skill arcade game. Get the highest score you can by removing large blocks of the same color.
Try to remove as many blocks as possible! 5uper block buster is a cool game for young and old. Your goal is to remove as many stones as possible by clicking on groups of blocks with the same color. The larger the group the higher the score you can get for it. Sounds easy? I can tell you that it is harder than you might think... Still, smart guys and gals will solve the puzzle, get rid of all. 5uper block buster offers online high scores.
Installation of jar file: copy the jar directly to your BlackBerry's media card, click on media, click the menu button to select explore, select the jar file in the card, click on the installation.
Model:
Blackberry 95XX Storm Series (360*480):9500, 9510, 9520, 9530, 9550(Storm2), 9570(Storm3), 9800(Torch)