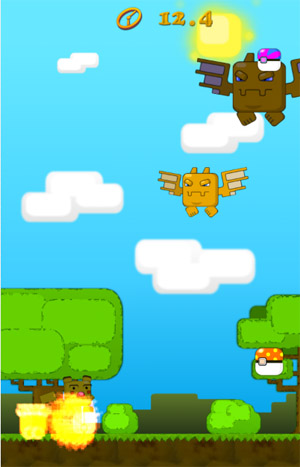 Tag:
Cubemon
Overview :
In the parallel universe far away there is a planet named Cubic Rubic, inhabited by little good monsters – cubemons. Cubemons always lived peacefully making cube-food and mining resourses. But one day their far kin, the pockemons, awared cubemons about evil zombie hunters invaded the planet and caught them all.
And now zombie hunters are heading to the Cubic Rubic to enslave all cubemons. For catching cubemons zombies are using special pixel weapon, that can destroy cubical bodies of cubemons. That secret ultimate weapon is called Cubeball and it looks like cubicall ball. Massive cubeball attack will be made by invisible space ships. Whenever cubeball touches a cubemon poor little monster is caught. Zombie hunters are skilled snipers, so super agility, fast reaction and logics are the only way to survive. Cubemons must not stop running and evading, because the true apocalypse cover their planet.
Moreover, another tribe lives on Cubic Rubic – cubical dragons, Cubedrags. They are to burn all cubemons to the ground. Now cubemons stand before choise: being caught by zombie hunters or being burnt by cubedrags. How should they solve this problem?
You are now to become defender of all cubemon race and avoid dreadful nailed zombie claws. During game no need to catch cubemon, instead you must save them from being hit by red, blue and yellow cubeballs.
Supported Devices:
BlackBerry Classic
BlackBerry Leap
BlackBerry Passport
BlackBerry Passport Silver Edition
BlackBerry Q10
BlackBerry Q5
BlackBerry Z3
BlackBerry Z30
Porsche Design P9982
Porsche Design P9983