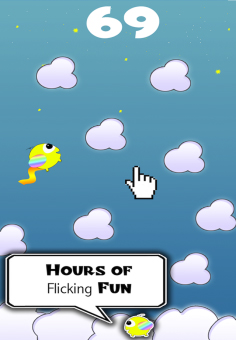 Tag:
Challenge
Bobo
Overview :
Bobo's Challenge FOR blackberry game
[How to play]
Flick is speed sensitive. Flick fast to move quickly. Flick slow to move slowly. Just dodge those clouds by flicking up and down...How hard can it be?
Flicking your way through danger is not as easy as it seems. Watch Out! Flick up and down to help Bobo dodge those clouds!
Everyone will play, few will master. How far can you go?
If you love productivity, don't get this game. It's all consuming and addicting.
So addicting that if someone had a penny for every time he played this, he'd be Bill Gates' neighbor. Warning, you might break your phone in frustration.
Challenge your friends on social media: Twitter, Facebook, Instagram, etc to see who's best!
Follow us on Facebook: https://www.facebook.com/YuesStudio
Follow us on Twitter: https://twitter.com/YuesStudio
This is a free game.
Levels are frustratingly fun. But remember compete with friends adds excitement.
The character, Bobo, is whacky, kiddy, and nuts.
Watch Bobo, the yellow character, yell in pain as he hits clouds, and you laugh.
Supported Devices:
BlackBerry Classic
BlackBerry Leap
BlackBerry Passport
BlackBerry Passport Silver Edition
BlackBerry Q10
BlackBerry Q5
BlackBerry Z10
BlackBerry Z3
BlackBerry Z30
PlayBook
Porsche Design P9982
Porsche Design P9983