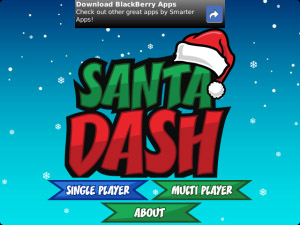 Tag:
9790 games
Santa Dash
Overview :
Free Santa Dash v1.0.19 for blackberry 9650,97xx games
os 6.0+
Model: 9700 9780 9650 9790
Description:
Just in time for Christmas! Santa Dash is the latest free app from Smarter Apps.
Looks like Santa has been enjoying the holiday eggnog and lost track of time! It's Christmas Eve and Santa has found himself running out of time to deliver all his gifts before the sun rises. There's no time to dive down the chimney and get work done the traditional way, so Santa must race across the rooftop at perilous speeds to finish the last of his holiday deliveries.
Help guide Santa and his reindeer across the rooftops while avoiding chimneys or crashing into the buildings or the ground below, all while managing Santa's speed. With the sugar-rush of candy canes and milk and cookies, Santa and his reindeer can reach break-neck speeds, or you can use snow piles and Christmas trees to slow down the sleigh's acceleration. Too fast or too slow can end in a holiday mishap, so you'll need to be careful!
Think you're a Santa Dash master? Want to show off your skills and challenge your friends? Santa Dash features a head-to-head mode with BBM and compete directly with your friends.
Features:
Santa Dash is a "Run-Until-You-Die" game genre (such as the popular Robot Unicorn Attack, or Canabalt)
Share your score via email, Facebook® or Twitter®!
BBM Head-to-Head play
We hope that you enjoy playing this free version of Santa Dash and we invite you to contact us at info@smarter-apps.com if you have suggestions or feedback for us.
If you enjoy Santa Dash, please write a positive review telling us what it is you like about your experience.
Merry Christmas and Happy Holidays!