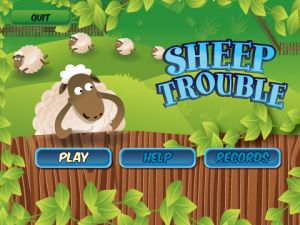 Tag:
9788 games
9370 games
Sheep Troubl
Overview :
free Sheep Trouble v1.0.1 for blackberry 480x360 games
OS 4.6,4.7,5.0,6.0,7.0
Model: Curve 8900, Curve 8910, Curve 8980, Tour 9630, Bold 9650, Bold 9700, Bold 9780, Bold 9788, Curve 9350, Curve 9360, Curve 9370

Description:
Colourful , vivid, captivating game Sheep Trouble.
Well, sheep also may have troubles from time to time!
The game is about changing the colour of the tiles. There are blue tiles that should be turned into golden ones. It seems quite simple and primitive task, but you have to do it fast, as the time is ticking and there are a lot of bushes, boulders, locked tiles, evil sheep and this is not a complete list of surprises that you may come across while playing.
Bonuses are also guaranteed, but you will have to be smart to get them.
All in all Sheep Trouble promises a great time!
Characteristics:
* colourful design;
** funny sound;
*** strong addiction guaranteed.
P. S. Don't be shy and let us know whether you like the application or not.
Feel free to contact Contlex Ventures team if you have some problems with the application and we will do our best to solve it. Thank you.
Enjoy your time with Contlex Ventures!