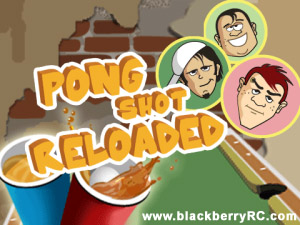 Tag:
9800 games
torch games
Reloaded
Pong Shot
Overview :
Pong Shot Reloaded v1.0.1 demo for blackberry 95xx,9800 games (360x480)
OS 4.7, 5.0, 6.0
Model: Storm 9500/9530, Storm2 9550/9520, Torch 9800

Description:
Now play the popular Pong Shot game with first person interactive game play and exciting animations. The objective is to clear the opponent's cups by dunking ball into them. The game difficulty increases with each level. Raise the bar with each win. Remember, every time your opponent gets a ball in your cup, your cup gets cleared and so does the chance of you losing the competition. So, practice to be perfect. Take a shot!
Features:
Realistic first person game play.
Cool and enjoyable animations.
Suitable game for all ages.
Challenging game play with automatically increasing difficulty levels.
Forced fast game play with timer running in each level.