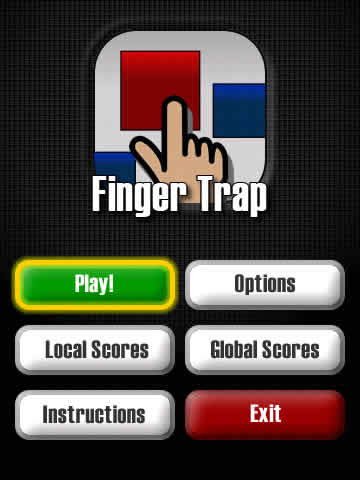 Tag:
Finger
storm games
Trap
Overview :
Finger Trap - 9380,9800, 95xx storm games
Model:
Blackberry 95XX Storm Series (360*480):9500, 9510, 9520, 9530, 9550(Storm2), 9380, 9800(Torch)

Description:
Finger Trap is the new FREE game for touchscreen BlackBerry devices which is highly addicting and puts your speed and reflexes to the ultimate test. This application comes from the same developers of the highly popular PatternLock, Bubble Burst and WordSearch (among many others). The game is compatible with touchscreen devices including the Storm, Storm 2 and the brand new Torch.
The objective of the game is to keep your red square safe for as long as possible. Put your finger on it to start the game and don't let go! Drag your finger around the screen to avoid hitting the flying blue boxes for as long as possible.
Features:
Two game modes: Regular and Wild
Three difficulties: Normal, Hard and Crazy
Ability to randomize block starting directions
Online/global high scores that is filtered by game mode and difficulty
Local high scores for each game mode and difficulty
Fun interface
Highly addicting game!