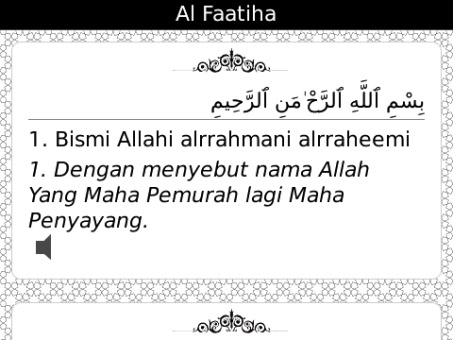 Tag:
Juz Amma
Overview :
Juz Amma 1.0 for bb os5.0+ apps

size: 97 kb
Model:
Blackberry 89XX Curve Series (480*360): 8900(Javelin), 8910(Atlas), 8930, 8950, 8980
Blackberry 90XX Bold (Onyx) Series (480*320) Devices Models: 9000, 9020(Onyx)
Blackberry 96XX Tour (Niagara) Series (480*360):9600, 9630, 9650(Tour2), 9700(Bold2), 9780, 9790, Dakota, Apollo
Blackberry 95XX Storm Series (360*480):9500, 9510, 9520, 9530, 9550(Storm2), 9570(Storm3)
Blackberry Torch Series: 9800(Torch), Torch2, 9810, 9860
Blackberry Pearl 3G Series (360*400) Devices Models: 9100, 9105, 9670(Style)
Blackberry 99XX (OS 7.0) Series (640*480) Devices Models: 9900, 9930, 9981

Description:
The most commonly referred and memorized juz' is "juz' Amma'," which is the 30th juz' and contains Surahs 78 through 114, most of the shortest suras in the Qur'an. 'Amma is generally taught first to children. Juz Amma is named after the 1st word of the 1st sura (i.e. sura 78) in that juz.
This application contains Juz Amma (Last chapter of the Quran) and Al-Fatihaa.
Feature:
Clear Arabic text, translation and transliteration.
Font size settings
Volume settings
Endless list navigation
Clear Recitation sound
No Ads