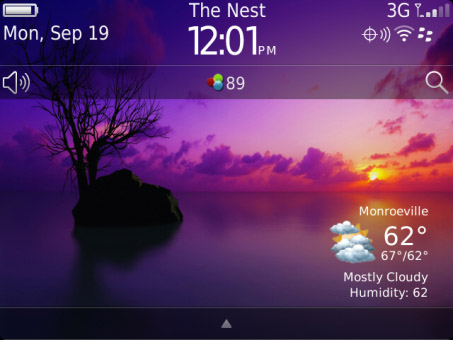 Tag:
QuickWeather
Overview :
QuickWeather v1.17 - Weather Widget for your Homescreen
size: 243 kb
Required Device Software Operating System: 5.0.0 or higher
model:
Blackberry 89XX Curve Series (480*360): 8900(Javelin), 8910(Atlas), 8930, 8950, 8980
Blackberry 90XX Bold (Onyx) Series (480*320) Devices Models: 9000, 9020(Onyx)
Blackberry 96XX Tour (Niagara) Series (480*360):9600, 9630, 9650(Tour2), 9700(Bold2), 9780, 9790, Dakota, Apollo
Blackberry 95XX Storm Series (360*480):9500, 9510, 9520, 9530, 9550(Storm2), 9570(Storm3)
Blackberry Torch Series: 9800(Torch), Torch2, 9810, 9860
Blackberry Pearl 3G Series (360*400) Devices Models: 9100, 9105, 9670(Style)
Blackberry 99XX (OS 7.0) Series (640*480) Devices Models: 9900, 9930, 9981

Description:
QuickWeather will display your current weather conditions anywhere on your homescreen.
New Features in v1.8
* Now supports BerryWeather Icon sets! (you dont need berryweather to run QuickWeather,) - See Screenshots to see the many customization options
* Added Wind Direction
* Icon set icon now shown in options
* Last updated time now shown in options
* Added 'Humidity' and 'Wind Speed' to displayable options
* Application Icon now displays the current temperature
* Text can now be aligned center left or right within the QuickWeather widget itself
* When returning to homescreen from another app QuickWeather will fade into view instead of suddenly appearing
* City and Current Conditions display options are now separate items
* QuickWeather menu option will now take you to QuickWeather Options screen if pressed while QuickWeather is active
Features:
* Save Multiple Locations You can now save an unlimited amount of locations. When you add a location it will now be saved in the 'Previous Locations' list so you can easily select a location. Locations can also be deleted from the list. * Animated Weather Radar (Currently U.S. locations only. Sorry) View animated radar of your current location or a locations stored in the 'Previous Locations' list.
Choose from the following types of radar:
Base Reflectivity, Storm Relative Motion, Base Velocity, One-Hour Precipitation, Composite Reflectivity, Storm Total Precipitation Choose the following Overlays: Topo, County, Rivers, Highways, Cities, Warnings and Legend There is a help screen for the radar types that briefly explains what each type is for etc
* 7 Day Text Forecast (Currently U.S. locations only) View a detailed 7 day text forecast for your location New Features in v1.3
* Animated Weather Radar (U.S. locations only)
* 7-Day Text Forecast (U.S. locations only)
* Save an unlimited amount of locations
Features: (all features below are available for all countries and locations)
* Displays current temperature and hi/lo forecast
* Displays 'Feels like" temperature (heat index / wind chill factor)
* Uses Location ID or Cell Tower or GPS methods to automatically find your current location
* Choose update frequency
* Change background color
* Change text color
* Set transparency level
* Set on-screen location
* Display weather conditions or city name
* Celsius or Fahrenheit
* 2 layout styles
* Also includes 5 day forecast display (not a widget but a popup window) which displays temperature forecast, current temperature, current humidity level, wind speed and sunrise / sunset times Unlike other weather apps, QuickWeather does not work by changing your wallpaper. QuickWeather is a homescreen widget and does not interfere with theme hotspots or any other elements on your homescreen. You can position the widget exactly where you want it on the screen. QuickWeather has a very small footprint, is not active when the backlight is off or your device is in bedtime mode and has no lag or battery drain effects on your device. A Quick and Simple glance at your weather! NikkiSoft answers to reviews. Send an email to support and you'll receive an auto reply. Read that auto reply email and send further correspondence to the email indicated in that email. Do not reply to the auto-reply address.