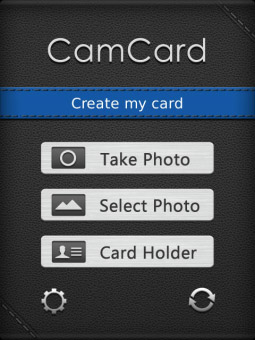 Tag:
CamCard
Overview :
Camcard software (Business Card Reader) v1.5.781 for blackberry 5.0 to 7.x apps - CamCard is a professional business card reader based on IntSig's market leading OCR technologies.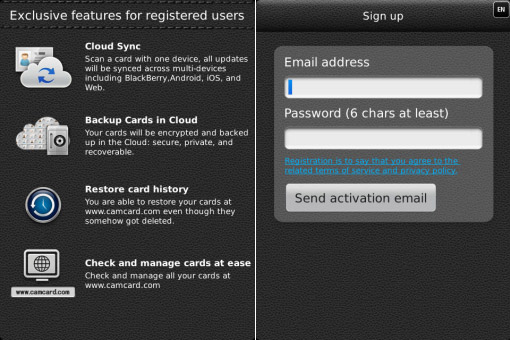 Version:1.5.781
File Size: 3 MB
Required: 5.0.0 or higher
Model: Blackberry 89XX Curve Series (480*360): 8900(Javelin), 8910(Atlas), 8930, 8950, 8980/Blackberry 90XX Bold (Onyx) Series (480*320) Devices Models: 9000, 9020(Onyx)/Blackberry 96XX Tour (Niagara) Series (480*360):9600, 9630, 9650(Tour2), 9700(Bold2), 9780, 9790, Dakota, Apollo /Blackberry 95XX Storm Series (360*480):9500, 9510, 9520, 9530, 9550(Storm2), 9570(Storm3)/Blackberry Torch Series: 9800(Torch), Torch2, 9810, 9860/Blackberry Pearl 3G Series (360*400) Devices Models: 9100, 9105, 9670(Style)/Blackberry 99XX (OS 7.0) Series (640*480) Devices Models: 9900, 9930, 9981


It helps you turn piles of business cards into your phone Contacts with just several clicks. What you only need to do is just to provide clear card photos either by built-in camera or album.
Snap and click, all info on the business card will be automatically recognized and categorized. Supported categories include but not limited to: First Name, Last Name, Tel., Mobile, Fax, Email, Address, Company, Department, Job Title, Postal, Web, IM...
This version also provides a Card Holder to save all the business card images. After the card is recognized and saved in Card Holder, you can make call, send SMS/email, search in Linkedin, visit homepage, and locate on the Google map right from the Card Holder.
Features:
- Searchable Card Holder. All card images are automatically saved in Card Holder
- Make call/SMS/Email directly from Card Holder
- Batch processing. Capture 1-100 cards and recognize them all at one time
- Auto rotate card image
- Auto detect languages
- Recognition languages: 16 languages including most European and East Asian languages
- Display corresponding card area for result verification
- Add/Merge to phone contacts
Tips:
Capture card as big as possible.
Good lighting environment can help the result.
For portrait card, capture it in landscape style.
Use Wi-Fi for high speed connection.
Use batch mode for tens of cards.
Requirements:
-Internet access
-Auto Focus camera
-OS 5.0 / 6.0 / 7.0
What's new in v1.5:
- Save to phone contacts automatically, the default group is CamCard
- Add backside image of card
- Synchronously change with phone contacts
- Batch process cards (1~100 cards each time)
- Backup and recover
- Card holder password
- Export to CVS and XML
- Trial Limitations: Can recognize 10 cards at beginning and two cards will be added per week.