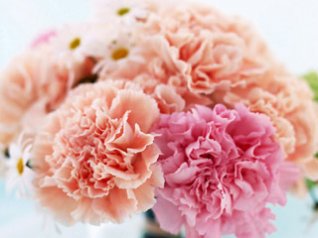 Tag: Mothers Day
Wallpapers Overview:


most countries, Mother's Day is a recent observance derived from the holiday as it has evolved in America. When it was adopted by other countries and cultures, it was given different meanings, associated to different events (religious, historical or legendary), and celebrated in a different date or dates.

Some countries already had existing celebrations honoring motherhood, and their celebrations have adopted several external characteristics from the US holiday, like giving carnations and other presents to your own mother.

The extent of the celebrations varies greatly. In some countries, it is potentially offensive to one's mother not to mark Mother's Day. In others, it is a little-known festival celebrated mainly by immigrants, or covered by the media as a taste of foreign culture (compare the celebrations of Diwali in the UK and the United States).


Choose Your Screen Resolution: 320x240 360x480 480x320 480x360


This wallpapers for use in the following BlackBerry models:
1440x2560 : blackberry priv
1440x1440 : blackberry passport, Q30, Passport Silver Edition
1280x1280 : blackberry z20, z10, q5, q10, classic, leap
1280x1280 : Blackberry Dev Alpha, A10, Z10, Z30, P9982
1024x1024 : Playbook
720x720 : Blackberry Q10, Q5, Q20, P9983
640x480 : 9900, 9930, P9981
480x800 : 9860 Monza, Storm3 Monaco
480x640 : Torch2 9810
480x360 : 8900, 8910, 8930 Curve2, 8950, 8980, Onyx 9020, 9220, 9350 Sedona, 9370 Apollo, 9600, 9630, 9650, 9650x, 9700, 9720, 9780, 9788, 9790(OS 7)
360x400 : Style 9670, Pearl 3g 9100, Pearl 3g 9105
360x480 : 9500, 9510, 9520(storm2), 9530, 9550(storm2), 9570(Storm3), 9630, 9800, Curve Touch
480x320 : 9000, 9020
320x240 : 8110, 8300, 8310, 8320, 8330, 8350i, 8500, 8520, 8530, 8700, 8700c, 8700f, 8700g, 8700r, 8703e, 8707, 8707g, 8707v, 8800, 8820, 8830, 9300, 9330(Curve)
More BlackBerry Wallpapers all in BlackBerryRC.com

BlackberryRC.com Remind You
Permanent site at BlackBerryRC.com (BlackBerry + RC) Please click it, Add to Favourites visit it next time conveniently!