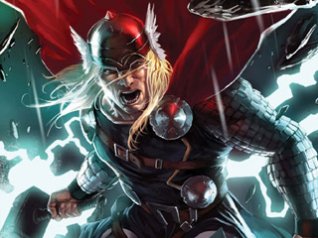 Tag: Thor Comic
Wallpapers Overview:


Thor (often called The Mighty Thor) is a Marvel Comics superhero, based on the thunder god of Norse mythology. The superhero was created by editor Stan Lee and penciller Jack Kirby, who co-plotted, and scripter Larry Lieber, and first appeared in Journey into Mystery #83 (Aug. 1962).

On a mission from his father, Odin, Thor acted as a superhero while maintaining the secret identity of Dr. Donald Blake, an American physician with a partially disabled leg. Blake would transform by tapping his walking stick on the ground; the cane became the magical hammer Mjolnir and Blake transformed into Thor.

Thor often battled his evil adoptive brother Loki, a Marvel character adapted from the Norse god of mischief, and was a member of the superhero group the Avengers. Apart from this superhero Marvel featured a number of Thors (and similar characters) based on him.


Choose Your Screen Resolution: 320x240 360x480 480x320 480x360


This wallpapers for use in the following BlackBerry models:
1440x2560 : blackberry priv
1440x1440 : blackberry passport, Q30, Passport Silver Edition
1280x1280 : blackberry z20, z10, q5, q10, classic, leap
1280x1280 : Blackberry Dev Alpha, A10, Z10, Z30, P9982
1024x1024 : Playbook
720x720 : Blackberry Q10, Q5, Q20, P9983
640x480 : 9900, 9930, P9981
480x800 : 9860 Monza, Storm3 Monaco
480x640 : Torch2 9810
480x360 : 8900, 8910, 8930 Curve2, 8950, 8980, Onyx 9020, 9220, 9350 Sedona, 9370 Apollo, 9600, 9630, 9650, 9650x, 9700, 9720, 9780, 9788, 9790(OS 7)
360x400 : Style 9670, Pearl 3g 9100, Pearl 3g 9105
360x480 : 9500, 9510, 9520(storm2), 9530, 9550(storm2), 9570(Storm3), 9630, 9800, Curve Touch
480x320 : 9000, 9020
320x240 : 8110, 8300, 8310, 8320, 8330, 8350i, 8500, 8520, 8530, 8700, 8700c, 8700f, 8700g, 8700r, 8703e, 8707, 8707g, 8707v, 8800, 8820, 8830, 9300, 9330(Curve)
More BlackBerry Wallpapers all in BlackBerryRC.com

BlackberryRC.com Remind You
Permanent site at BlackBerryRC.com (BlackBerry + RC) Please click it, Add to Favourites visit it next time conveniently!