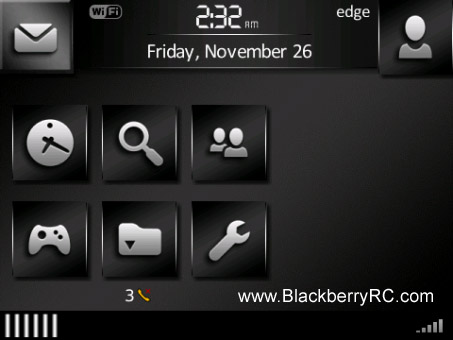 Tag: Black Providence
Overview :

Black Providence 85xx,93xx themes -- Very clean theme. Nice icons too!







The theme support BlackBerry

8500, 8520, 8530, 9300, 9330

running OS5.0



5 hideable customized display icons of Media, Application, Camera, SMS, and Browser (Changeable between slot 1-5)2 hideable top icons (slot 6-7)6 extra hideable icons (slot 8-13)3 static icons of Blackberry Messenger, Manage Connections, and Options (Accessible at the top banner and down banner) - 2 top static icons for 9000 devicesHotkeys for hiding icons (alt +1 - 6)Customized icons and battery meterCustomized focus iconsWallpaper friendlySleek designSmooth operationLow File Size.




I love this theme. enjoy.