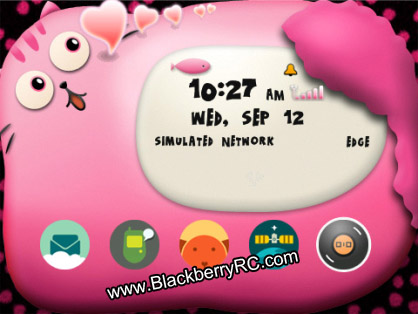 Tag: pink Lazy Cat 8520 Themes
Overview :
free Pink Lazy Cat for 85xx,93xx curve themes -- Download this theme, and let a cute cat fill full your phone homescreen!



The theme support BlackBerry
8500, 8520, 8530, 9300, 9330
running OS5.0
Features:
1. The Battery Volume is designed as 5 love hearts on the left top;
2. Hidden dock, move the focus on profile icon, the bottom dock will be hidden,
3. Sticks style icon, which is creative and make the theme more perfect!

I love the colour pink that's . I love this theme.