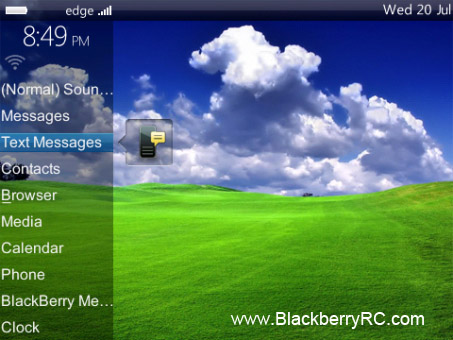 Tag: bold curve 9700 themes tour Insight
Overview :

Cool Insight theme for 9700,89xx,96xx os5.0 -- Perfect design for me so smart and so sleek !




The theme is free and support BlackBerry 8900(Javelin) 8910(Atlas) 8980 9600 9630 9650 9700 running OS 5.0

Description:

Insight begins by making your BlackBerry® all business. Your user-defined top applications are displayed in a vertical text-based App List on the left-hand side of your screen. Not to abandon all-important-style however we were sure to include revolutionary Icon Hinting – picture pop-ups descriptive of each application which appear next to highlighted text in both the App List and the Smart Banner. A simple press of the Back Button allows the user to hide the App List from the Home Screen and/or disable Icon Hinting (by deselecting the check box). As with all themes by AG Designs applications in the Smart Banner – Clock Manage Connections Messages and Calendar – are selectable.
With beautiful OS7 icons and refreshing background images Insight is as graphically rich as it is user-friendly.

enjoy.