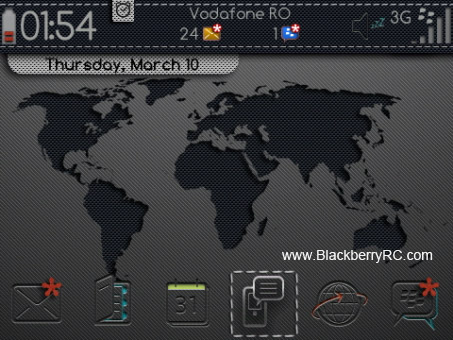 Tag: Black Beautiful
Overview :

Beautiful Black World for 9000 89xx 96xx 9700 themes -- It is inspired by handcraft. Sewed leather and beautiful shades are combined in a stylish design meant to make your every day usage more beautiful. It blends beautifully with any wallpaper and the custom icons and font give it a unique touch.





Theme support BlackBerry 9000,9020,9700,8900,8910,8980,9600,9630 running OS5.0



Features and instructions:

- A HIDDEN DOCK - You can now choose if you want the dock on your screen or not. Press the SPACE BAR to show it and the BACK KEY to hide it

- A HIDDEN WEATHER SLOT for your convenience. Press "ALT & O" to show it and "ALT & I" to hide it

- Today Feature

- Custom font

- Cafefully designed icons

- Custom banner elements and large clock

- Smooth animated transitions

- Blazing fast

enjoy!!