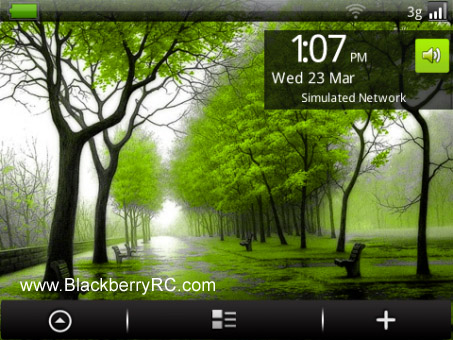 Tag: 9530 theme GreenLuck
Overview :

GreenLuck theme ( 95xx storm themes os5 ) : A distinctive green theme, let your Blackberry phone look like other phones, but this topic also retain the original function.



Description:
Hidden Today drops down from top of theme from notification bar when you select it.
Dock Appears From Middle of Screen, with six icons on it hit plus sign on bottom dock to show.
Hit Up arrow on bottom dock to show 10 or 6 button text only menu.
Left "MOST" fonts default to allow for user-defined size. Must be above 9.
Green Look Throughout every screen in theme.
Keyboard Shortcuts:
@ - PROFILES
r - CLOCK
$ - SMS and MMS (must have $ designated as currency key)
e - MEDIA FOLDER
spacebar - QUICKLAUNCH (not included...highly recommended)
j - MANAGE CONNECTIONS

The theme is free, and support BlackBerry
9500, 9510, 9520, 9530
running OS 5.0