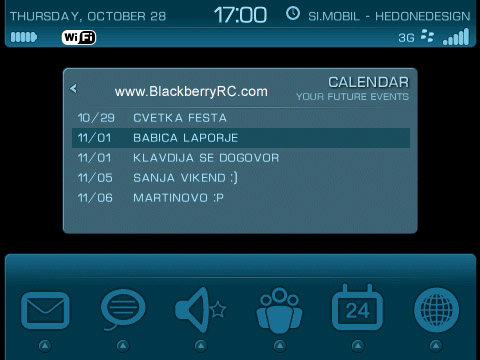 Tag: bold 9000 theme Nova
Overview :

The Nova theme designed by Hedone Design -- Simple. Elegant. Communicative. Classic. Hope you like them.



This was specifically designed for the 9000 series running 5.0

model: bold 9000

size: 339 kb

Description:

Unlike a super-nova, a nova is a star that just gets brighter and brighter. There is something, however, quite "super" about this particular nova.

Our designers spent a lot of time coming up with an entirely new icon set like nothing you've seen before. Icons are symbols meant to convey a thought, an idea or a function in the simplest and clearest of forms – reminiscent of the designs of famed Braun industrial designer Dieter Rams and the original Mac icon set. Simple. Elegant. Communicative. Classic.

Nova also features a message and calendar board that can be accessed by simply navigating up. Individual items can be selected and viewed/edited with a single press of a button, keeping with the Hedone Design concept that form is not separate from function, but, if properly utilized, work with and from one another – the beauty IS the brawn.