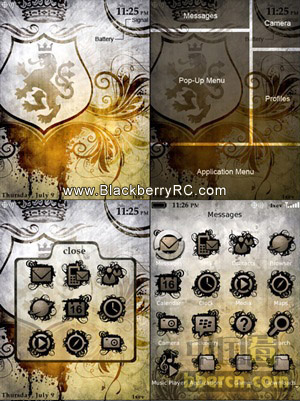 Tag: Conquest Storm 9500 themes
Overview :

It is an avant-garde design theme with visual impact effect and vivid colors, stand out from the numerous themes. I hope you like it.



This was specifically designed for the 95xx series running 5.0




Model:

storm 9500, 9510, 9520, 9530, 9550(Storm2), 9570(Storm3)



Description:


Conquest is a visually stunning theme. Just because it s a business phone, it does not mean it can t have style! A strong graphic flow is combined with a very useful layout to create a top-notch theme.

Features:

* An edgy, progressive design

* Original visuals, icons, and buttons

* Hidden homepage menu (Storm Users Click the Shield to show)

* Vivid colors

* Hotspots for Application Menu, Clock Profiles, and Messages (Storm users only)

* Stands out from the crowd!

* Battery pull is recommended after installation.