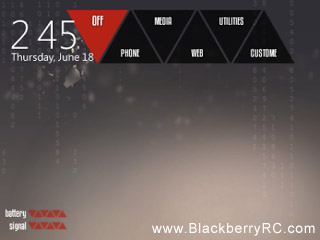 Tag: evolve 8900 themes Grid
Overview :

A theme full of sense of science and technology - Evolve Grid Theme, elaborate design pictures and beautiful ICON, personality and widely known, like it very much, ENJOY!



This was specifically designed for the 89xx,96xx,9700 series running 5.0

Model: Blackberry 89XX Curve Series (480*360): 8900(Javelin), 8910(Atlas), 8980

Model: Blackberry 96XX Tour (Niagara) Series (480*360):9600, 9630, 9650(Tour2), 9700(Bold2)




Description:

The new Evolve theme is here to break all of the rules! If you're looking to completely transform your device and bring new life to your homescreen, Evolve is for you.

Evolve combines modern visuals with a practical layout in a beautiful, minimal look. Everything is under your finger tips on the homescreen in a futuristic and tessellated grid. Just tap a category at the top to reveal applications pertaining to that category. 20 organized icons cleverly fly onto the screen underneith each category, animated like a futuristic computer. It's never been this fun to get your apps!

Got an app that you'd like on the homescreen that isn't there already? Evolve adapts to you. Just move the icon to the top of your application list and it will be visible in one of the 8 slots in the custom category dock. Better yet, if you prefer a clean interface with nothing in the way, just tap the on/off icon at the top left and everything will clear out allowing you to enjoy your wallpaper.

If you are looking for a clutter-free, wallpaper-friendly homescreen packed with features carefully tucked away, then Evolve is for you.

The Evolve Theme:

♦ Practical & pixel perfect design

♦ Beautifully animated transitions

♦ Clean, simple & professional

♦ 20 locked icons

♦ 8 customizable icons

♦ Clean dash board interface

♦ Wallpaper friendly

♦ Fast and snappy

♦ Today preview & Weather slot for Touch devices

Upgrade your phone with Evolve from Elecite.

NOTES:

- Trackpad homescreen navigation is not compatible with Torch 9800 - out of our control!