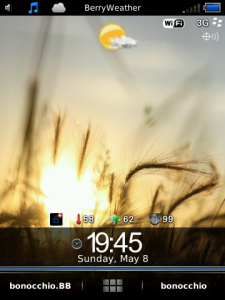 Tag:
Storm
Attire
95xx themes
Pootermobile
os5.0
Overview :
file size:
1.55 mb
Compatible OS versions:
5.0
Compatible model:
Blackberry 95XX Storm Series (360*480):9500, 9510, 9520, 9530, 9550(Storm2), 9570(Storm3)

Description:
The World Of Pootermobile is all about making your BlackBerry® look and feel good. Just like with yourself, when you put on your favorite clothes, Attire will make you feel good about having a BlackBerry®. With a clean look to the homescreen Attire has some nice features for you to enjoy. One of them being a "weather widget" (the ability to hide/show the icon on the top middle of the screen). All you have to do is click the cloud icon on the top banner and you will get a popup giving you the option to turn on or off the weather spot. This feature is a great addition to a stylish theme. Grab Attire today to dress up your BlackBerry®!

For touchscreen devices: 2 customizable text icons on the bottom
Landscape mode available: 4 icon bottom dock with weather slot (weather widget feature not available for landscape homescreen)
For keyboard devices: 4 customizable text icons on the bottom

Fixed application button (takes you to the applications screen)
Weather slot - you must have a free or premium weather app in the first slot of the applications screen in order for weather to appear in the top middle of the homescreen
Weather widget: Ability to hide/show the weather slot
Profiles icon
Fixed music button (takes you to the music app)
No carrier
Transitions throughout