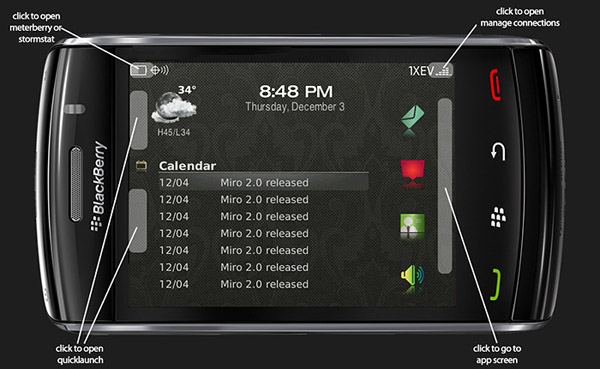 Tag:
storm themes
Mirro 2
Overview :
Mirro 2 for 95xx storm themes
Compatible Devices :
Model: Blackberry 95XX Storm Series (360*480):9500, 9510, 9520, 9530, 9550(Storm2), 9570(Storm3)

UNRAR/UNZIP the file with a software WINRAR/WINZIP( Available free on internet through Google).
Now click the downloaded file.
It will open with WINRAR/WINZIP.
You will find the files inside.
Connect your phone to your PC, Activate the Mass storage Mode.
Make a folder in your Memory Card with the Theme Name, and copy all these extracted files inside the folder.

Disconnect Mass storage and come out.
Open BB Menu, Go to Application Folder.
Go to File Manager.
Go to Media Card....and to the Theme folder(that you made).
Open it and go to the smallest file of 2 KB(JAD).located either at the bottom or at the top.
Click on that.
It will ask you for Download option.
Just press DOWNLOAD, and your theme will be downloaded from the Memory card onto your Device.
Go to Options, Themes and there you go.
You have your best Theme .
Thanks
xtrmblackberrythemes