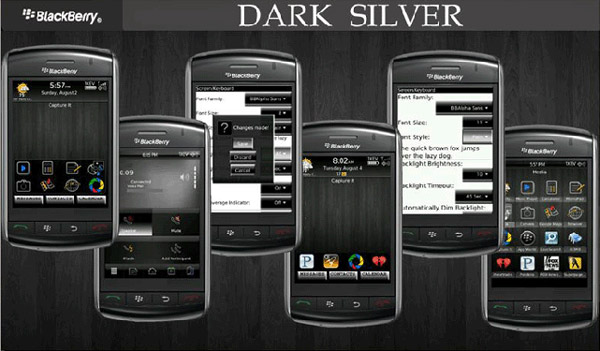 Tag:
Dark
Storm
95xx themes
Silver
Overview :
Dark Silver for 95xx themes
Compatible Devices:
Model: Blackberry 95XX Storm Series (360*480):9500, 9510, 9520, 9530, 9550(Storm2), 9570(Storm3)

I have notice that some people like a lot of icons and some like few icons on there home screen that is why I have created this to hide out of veiw when needed and to slide into view with only eight icons at a time showing. A very eye pleasing and wallpaper friendly theme with Slide and Hide technology. I have also included customized ZenGlow icons. Fully tested on my own phone running OS 4.7 with .151 Must try to really appreciate. As alway please do a battery pull after install. Please contact support email with problems before leaving review.
Features:
IMPORTANT PLEASE READ:
After every theme install please do the following steps. You only have to do this once for each theme installed. This is just a precaution that I like to do with my themes I install.
First: Do a Battery Pull. This is very important, as the new themes are much larger.
Second: Go to App screen on your phone press BB Logo button and select Options.
Now select Theme Defaults at the bottom of the screen and put check mark next to all four and select Apply then Yes.
----------------------------------------------------------------------------
Featuring new Slide and Hide technology.
Profiles icon is hidden off to the right.
Options icon is hidden off to the left.
Touch the right side of screen to Hide.
Touch left side of screen to Slide.
W/B slot located top left corner.
Hidden clock and manage connections buttons at the top.
Custom lock screen.
Custom ZenGlow icons.
Transparent menu background.
3 fixed buttons at the bottom, Messages, Contacts and Calendar with up to 10 previews each.
Unread Message or Calendar entry highlighted with gray bar.
Dark Silver has 16 Sliding Bottom Dock icons that can be user configured for all your favorite app's.
Name of App is displayed for each icon as you hover over top of it.
This theme is home screen wallpaper friendly.
Please check out my screenshots above.
See above screenshot for more details.
Tested on Storm1 5.0.0.328 and Storm2 5.0.0.320 OS

Minimum Requirements:
Storm - OS 5.0
Storm1) 5.0.0.328 Compatible
Storm2) 5.0.0.320 Compatible
Display Dimensions
480x360
Operating System
5.0 Touch Screen