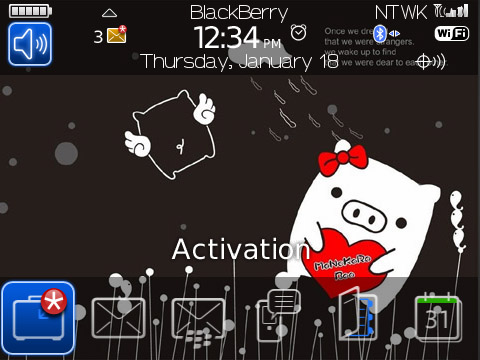 Tag:
bold
curve
tour
Mono KuRo BO
Overview :
Mono KuRo BOO themes for 89,96,97 series
Compatible Devices :
Model: Blackberry 89XX Curve Series (480*360): 8900(Javelin), 8910(Atlas)
Model: Blackberry 96XX Tour (Niagara) Series (480*360):9600, 9630, 9650(Tour2), 9700(Bold2)

Japanese idol creation flagship [San-X] introduced a classic [Mono KuRo BOO black and white pigs] series, the lovely black and white 2 piglets, the color black, white, gray three-color change, the style simple and has no shortage of fashion breath. Simple is best! Whether in Taiwan, Japan or Hong Kong are super-popular black and white pigs, is the little things like personal popularity of small objects can not miss oh.