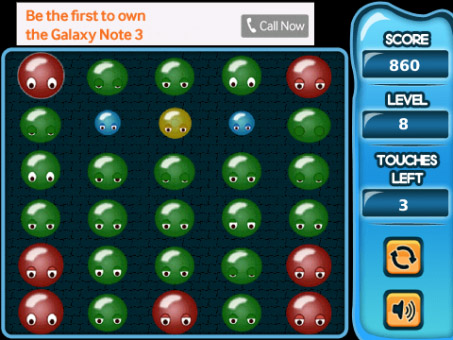 Tag:
Bubble Burst
Overview :
free Bubble Burst v1.1.4 for bb 99xx bold games
Version: 1.1.4
File Size: 4.0 MB
Required: BlackBerry Device with Screen Resolution 640 x 480 (9900, 9930, 9981)
Description:
Bubble Burst, a game with unique properties. Based on the properties of a bubble this game is very interesting. In the game are four colors red, green, yellow & blue, arranged respectively according to their burst-ability, red with the highest burst-ability.
Break all the bubbles. Tapping on a red bubble would immediately break it into four smaller ones moving in all four directions and hit any other bubble in their path, on hitting another red bubble the process would continue till it hits other colored bubbles or just move out of the screen from its side. The moving red bubbles might hit any colored bubbles. On hitting, the red bubbles turn the blue ones into yellow and yellow to green. Thus, the process continues till the colored bubbles finally turn red, after which it breaks.
Enjoy breaking the bubbles while taking up the challenge of breaking all the bubbles in the limit no. of taps.
2 game modes are available
- Puzzle mode with 400 levels !
- Arcade mode to play freely
Features:
Unique game-play
Excellent UI & graphics
Brilliant Animation
Profound sound effects.